Ohh, the first long run after recovering from an injury.
Ha! I'm saying that as if it's like some sort of common rite of passage that everyone experiences at some point in their lives.
Ohh, the first time you learn to ride a bike without training wheels.
Ohh, first day of high school.
Ohh, the first time you realize you've made The Best Batch of Oatmeal Ever.

Yeah, my 8-mile run yesterday was sort of like that. Not only because it was my first long half marathon training run since I injured my hamstring, but also because I reconquered the 6.5-mile trail loop that I'd been avoiding for quite some time. Partly because it's quite muddy and I was a little apprehensive about roughing up my new pretty, pink Brooks, and partly because I wasn't sure if I'd actually make it all the way around.
But I did! I made it and then ran another mile and half back home. I won't lie, my muscles were on fire through the entire last mile, but it was that good kind of muscle fatigue that you know will make you stronger the next time around if you just hold on and push through it now. Most athletes thrive off of that, am I right? 
I did take a few very brief breaks during this run. Like at one point I stopped right below The Worst Hill Ever (see photo below) so that I could document it in all of its evil hilliness.
This photo doesn't really do it any justice, because you can't even see the top of it here. At the top, it's completely vertical. Like, every time I get to the top of this hill, all running resumes and I have to bend down, place my hands on the ground and hoist myself up over the top. I swear I'm not exaggerating. If there is anyone on this earth who can run over the top of this hill, I will pay them large sums of money to see it. (Not really. But, I actually would really love to see it.)
And while we're talking about crazy running obstacles. I'll also share with you the mini hurdle of water that I had to leap over.
I know that you can't really tell from the photo, but the entire boardwalk area there is covered in water. Like flowing water. Like, water that I absolutely refused to step my brand new Brooks into. So just picture me leaping over that mini-stream. Literally leaping. I know it doesn't even look that far. Like, anyone else in the world could probably just step over it. But no, not me and my short legs. I imagine I looked quite comical as I leaped to clear this hurdle that, I know, looks like a puddle, but I swear was a deep flowing river. Also something I'd pay to see.
And oh yeah, this little bridge is right before The Worst Hill Ever. And there just happened to be a couple sitting at the top of it while I was running yesterday. So, I'm pretty sure they must have gotten a real kick out of watching me struggle to conquer this part of the run.
Good times.
Anyway, now that I've conquered a long training run and everything still feels OK, I think I can stop thinking of my training in terms of pre-injury/post-injury. Because, why keep looking back, ya know? I'm healed and good to go. I won't forget the experience because it really taught me how hugely important stretching and recovery are, but from now on. A run is a run, is a run :)
xx Katie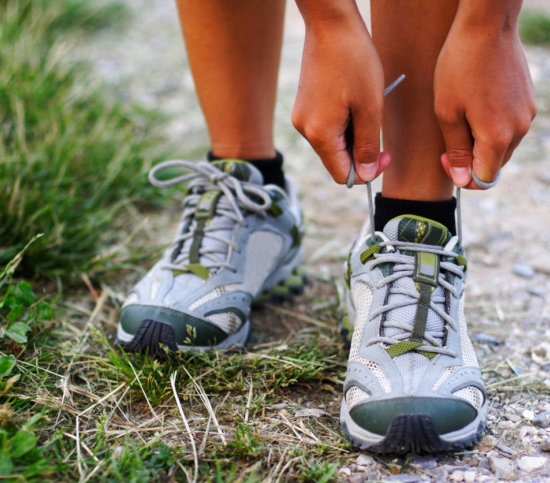 [image via Fit Sugar]
Running is pretty simple. All you need to do is just lace up your sneakers and go. But it can also be kind of complicated, because although it's one of the most basic forms of exercise, there are plenty of variables involved that increase the risk of injury pretty significantly. According to Fit Sugar, these are the top 3 "mistakes" people make when it comes to running:

Wearing sneakers for too long
Skipping your post-run stretch
Being "married" to running

Read more on Fit Sugar
Are you guilty of any of these top 3 running mistakes?